China's first recombinant protein COVID-19 vaccine production line produced by insect cells landed in ChengDu, planning to produce hundreds of millions vaccine per year
On August 22, the Red Star News reporter was informed that the recombinant protein COVID-19 vaccine developed by National Key Laboratory of Biotherapy of West China Hospital of Sichuan University was approved by the National Medical Products Administration for clinical trials. It is reported that the development of the vaccine has received strong support from the Ministry of Science and Technology, the National Health Commission, the National Medical Products Administration, the Ministry of Education, Sichuan Government, also including Chengdu Government and other departments, as well as the support and cooperation of many other domestic scientific research institutions.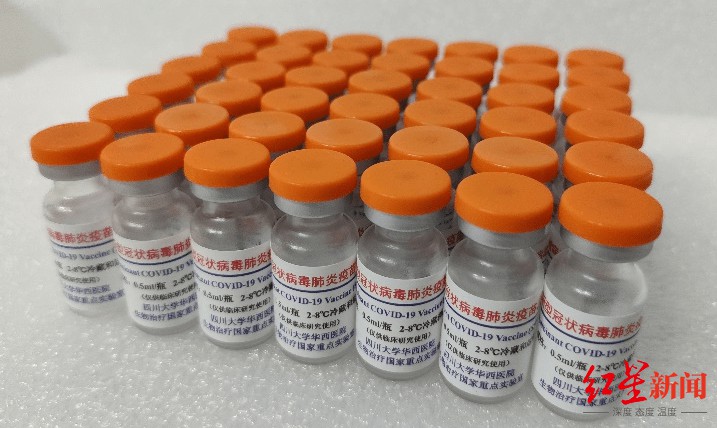 ↑CHINA'S FIRST RECOMBINANT PROTEIN COVID-19 VACCINE PRODUCED BY INSECT CELLS
The spike protein receptor binding domain (S-RBD) of SARS-CoV-2 to produce neutralizing antibodies which Westvac's COVID-19 vaccine target at could block the virus from infecting human cells. As early as July 29, researchers of National Key Laboratory of Biotherapy of West China Medical School published related papers on NATURE. This was also the first paper related coronavirus vaccine which published in NATURE since pandemic of this year. The paper stated that this vaccine has been found to have a good protective effect against SARS-CoV-2 infection in animal experiments such as monkeys, and no significant adverse effects have been seen.
The recombinant protein COVID-19 vaccine of West China Hospital of Sichuan University uses insect cells to multiply in the culture medium and introduces the genes of the COVID-19 virus into the insect cells. This cell is used as a factory to produce high-quality recombinant vaccine protein and refined and purified. Those technology can help to produce large scale vaccines to market quickly.
It is reported that insects are used to produce recombinant protein vaccines, and products such as cervical cancer vaccines and influenza vaccines have been marketed in Europe, America and other countries, and their safety in human application has been verified.
In order to promote the clinical trials and market use of vaccines as soon as possible, Tianfu International Bio-Town has given full play to its advantages as a pilot demonstration base for the transformation of major national scientific and technological achievements in the creation of major new drugs. At the beginning of the research of the project, it has maintained close contact, and made initial progress. Furthermore, Tianfu International Bio-Town intervened early to design the conversion path of the results.
In April this year, the vaccine research team of West China Hospital of Sichuan University and Tianfu International Bio-Town established Westvac which is now planning and designing a production line with an annual output of hundreds of millions of needles, and will realize the domestic independent research and development of a complete set of equipment. At present, in addition to the use of insect cells to develop COVID-19 vaccines, Westvac is also using insect cell technology to develop and produce more than 20 innovative immunotherapy products such as rabies vaccines, influenza vaccines, herpes virus vaccines, and a variety of tumor vaccines. More than 40 patents have applied.
According to reports, Tianfu International Biological Town was jointly built by Chengdu High-Tech Industrial Development Zone and Shuangliu District, with a planned area of approximately 44 square kilometers. It is committed to building a modern biological industry system with international competitiveness and regional driving force and building a world-class biological industry park. The vaccine industrialization project in Chengdu Tianfu International Bio-Town covers an area of 6000 square meters. It is currently undergoing workshop design, equipment selection and environmental assessment work. The plant is expected to be put into use by the end of the year.